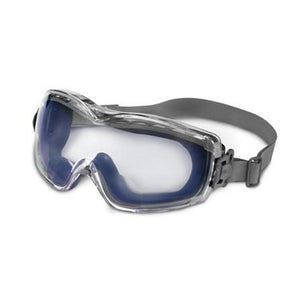 Introducing the pioneering Uvex Stealth Reader goggle, a breakthrough innovation offering an expansive spectrum of magnification strengths. Engineered with diopters ranging from +1.0 to +3.0, the Uvex Stealth Reader goggle caters perfectly to professionals seeking elevated magnification for meticulous tasks and up-close examinations, all while ensuring unmatched protective coverage.
Key Features:
Available in Crystal Clear with Uvextreme® anti-fog coating, featuring a diverse selection of five diopter strengths spanning from +1.0 to +3.0.
Crafted from premium, supple elastomer material that seamlessly molds to facial contours, ensuring a secure, tailored fit that eliminates gaps.
Designed to harmoniously accommodate Uvex Stealth® OTG lenses, enhancing versatility and customization options.
Adopts a discreet, wrap-around profile, ensuring comprehensive shielding and unhindered visibility, effectively safeguarding against chemical splashes.
Boasts an adjustable, broad slide headband accompanied by pivot clips, facilitating effortless customization to achieve optimal comfort, even when worn with hard hats.
Employs an economical lens replacement mechanism, significantly prolonging the goggle's operational lifespan.
Specifications:
Meets and exceeds the stringent ANSI Z87.1-2010 High Impact Standard, attesting to its unwavering commitment to safety and quality.