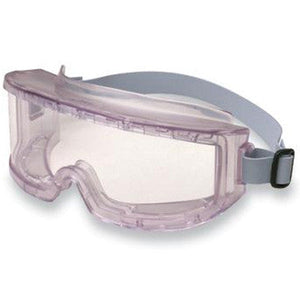 Presenting the Uvex by Honeywell 9301 Futura Goggles, a blend of wrap-around sports style and unparalleled protective innovation. These goggles offer panoramic vision with exceptional clarity, ensuring both maximum safeguarding and a featherlight, comfortable experience. With their clear frame, these goggles showcase a frosted brow guard that skillfully diminishes glare, coupled with indirect venting and Uvextreme anti-fog coating, effectively preventing fogging. The clear lens, complemented by a neoprene headband, guarantees unrestricted vision. Notably, these goggles conform to ANSI Z87+ standards.
Key Features:
Wrap-around Sports Style: Delivering panoramic vision for an exceptional field of view.
Glare-Reducing Frosted Brow Guard: Enhancing visual clarity by minimizing glare.
Indirect Venting: Facilitating optimal airflow for increased comfort.
Rx Spectacle Compatibility: Designed to comfortably fit over most prescription eyeglasses.
Easy Lens Replacement System: An economical solution allowing for various lens tints, extending eyewear life.
Benefits:
Maximum Protection with Lightweight Comfort: Ensuring unparalleled security without compromising on comfort.
Unrestricted Vision: The neoprene headband and clear lens combination offers unhindered sight.
Fog Prevention: The lens coat incorporates Uvextreme anti-fog technology, keeping vision clear.
Product Attributes:
Brand Name: Futura
Frame Color: Clear
Goggles Type: Indirect Vent
Lens Color: Clear
Lens Type: Anti-Fog
Uvex by Honeywell 9301 Futura Goggles redefine eyewear standards by blending cutting-edge design, panoramic visibility, and top-tier protection for an uncompromising user experience.