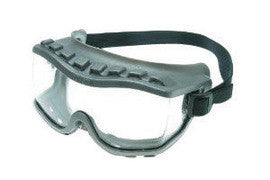 Introducing the Uvex® by Honeywell Strategy™ Non Vented Goggles with an Over The Glasses design, delivering an exceptional blend of fit, comfort, and protection in demanding environments. These gray frame goggles offer a comprehensive shield against chemical splashes, impacts, dust, sand, and debris. The lightweight soft frame goggles boast a clear lens featuring the Uvextra™ anti-fog coat, ensuring minimal fogging. With a neoprene headband, these goggles easily fit over prescription eyewear, meeting ANSI Z87+ and CSA Z94.3 standards.
Key Features:
Lightweight TPE body ensures extraordinary comfort and a secure fit for maximum protection.
Choose from 4 models tailored to various work applications: direct vent, closed vent, indirect vent, and indirect vent with foam lining for fine particle protection.
Uvextra™AF anti-fog coating combats fogging, maintaining clear vision.
The headband is available in fabric or neoprene, catering to chemical application needs.
Accommodates most prescription eyewear, allowing ease of use.
Specifications:
Conforms to the ANSI Z87.1-2010 standard and holds certification for the requirements of the CSA Z94.3 standard.
Applications:
Chemical Industry
Construction
Food Services
Mining
Municipal Services
Oil and Gas Sector
Pharmaceutical Industry
Steel and Metals Work
Transportation Sector
Utilities Management
Product Attributes:
Brand Name: Strategy™
Frame Color: Gray
Goggles Type: Closed Vent, Over The Glasses
Lens Color: Clear
Lens Type: Anti-Fog
These Uvex® goggles epitomize advanced protection without compromising on comfort or clarity, making them a reliable choice for diverse work scenarios.