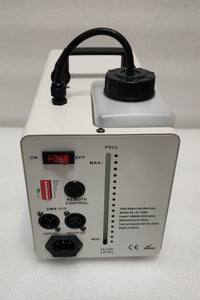 The TrueGuard Protector is a revolutionary disinfecting machine. It has been designed especially to kill viruses and germs wherever they may be hiding.
No more wiping down surfaces and worrying about viruses being left behind in hard to reach places.
Just point the TrueGuard Protector in the direction that you want disinfected and it will blow atomised disinfectant that can kill 99.99% of germs, bacteria and viruses up 15 feet away. Yes the powerful TrueGuard Protector  can spread disinfectant up to 15 feet away.
Furthermore the atomised disinfectant works at room temperature and the smoke like atomised disinfectant is virtually dry. 
The 2.5 litre tank makes the TrueGuard Protector ideal for the home, offices and commercial premises. You only need to fill this once and it will disinfect for a full hour, meaning you can disinfect your home multiple times a day without having to refill the tank.
Portable and easy to use, this machine keeps your home or work free of harmful germs and viruses. 
The TrueGuard Protector diffuses anti-microbial and disinfectant solutions to prevent disease and sanitize environments. The strong injection spraying function enables the penetration and diffusion of disinfectant solutions on surfaces and hard to reach locations.

In the era of the Corona Virus, the TrueGuard Protector is here to help in the fight to protect your family, friends and colleagues.
Available for immediate delivery from our USA warehouse, don't delay sanitize today!