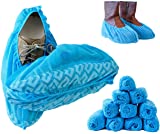 Disposable Shoe Covers: Your Reliable Solution for Protection
Introducing our Disposable Shoe Covers in a convenient 100-pack (50 pairs) case, bundled in 3 packs of 100 each. These shoe covers are designed to provide water resistance and slip resistance, ensuring your safety and convenience in various settings.
Key Features:
Water-Resistant and Slip-Resistant: These shoe covers offer dual protection against water and slips, making them a dependable choice for wet or slippery environments.
Generous Quantity: Each case contains 300 shoe covers (150 pairs), ensuring you're equipped for multiple uses.
Easy Application: Slip them on quickly and effortlessly to experience instant protection and enhanced grip.
Size Compatibility: Designed to fit up to Men's size 10 and Women's size 12, these shoe covers are versatile and accommodating.
Applications:
Healthcare: Ideal for medical professionals, caregivers, and hospital staff who require both safety and hygiene.
Industrial: Suitable for factory workers, contractors, and anyone working in environments where water and slips are concerns.
Home Use: Perfect for rainy days, cleaning tasks, and activities around the house where you want to keep your shoes and floors protected.
Packaging:
Pack Size: 100 Shoe Covers (50 pairs)
Case Content: 3 Packs of 100 Shoe Covers (Total 300 shoe covers, 150 pairs)
Size Compatibility: Fits up to Men's size 10 and Women's size 12
Upgrade your footwear protection with our Disposable Shoe Covers. Whether you're at work, in a medical facility, or simply dealing with the challenges of a rainy day, these shoe covers have you covered. Experience the convenience and confidence of reliable shoe protection with our quality solution.