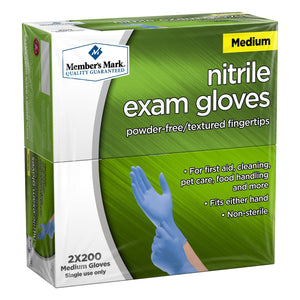 This is a pack of 400 Nitrile gloves that can be worn on either hand. Available from True PPE USA in sizes Small, Medium, Large and Extra Large. They are non-sterile, powder free and have textured finger tips.
Member's Mark is an established brand back by one of the world's largest retailers. So as you would expect, the Nitrile Gloves are of excellent quality and are manufactured by a renowned factory. So you can be safe in the knowledge that you are buying Nitrile Gloves that are of a high quality.
Nitrile Gloves are stronger and possess greater chemical resistance than both latex and vinyl gloves. You can find out more about examination gloves by reading our informative guide to safety gloves.
Nitrile gloves are generally used in areas that will result in higher levels of stress being placed on the examination gloves. ER and trauma units are the ones that come to mind first.
Less visible are areas that deal with harsh chemicals or liquid immersion (Lab, Oncology, Environmental Services, Endoscopy, and Pharmacy) they also use Nitrile gloves.
Nitrile exam gloves are an excellent strength and chemical resistance latex-free alternative.