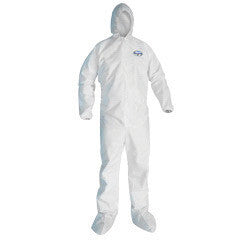 "Elevate Your Protection with Kimberly-Clark Professional* KLEENGUARD* A45 4X Coveralls
Shield yourself from potential hazards with the KLEENGUARD* A45 4X Hooded Coverall by Kimberly-Clark Professional*. These coveralls are engineered for maximum safety and comfort in various work environments.
Key Features:
🌟 REFLEX Design:* Designed with the REFLEX* design, these coveralls offer excellent flexibility and ease of movement.
🚫 Silicone-Free: All components used in these coveralls are specified as silicone-free, ensuring a clean and safe working environment.
💧 Water Resistant Zipper: The water-resistant zipper and zipper flap provide extra protection against liquids.
👍 Elastic Back: Equipped with an elastic back, these coveralls ensure a secure and comfortable fit.
🔌 NFPA 99 Compliant: These coveralls pass NFPA 99 standards for antistatic materials, enhancing your safety while working.
🚫 Latex-Free: Crafted with materials that contain no natural rubber latex components, making them suitable for individuals with latex allergies.
🛡️ Protection: These coveralls offer protection against isocyanate and chromate, safeguarding you from potential workplace hazards.
🌐 TAA Compliant: These protective coveralls are compliant with the Trade Agreements Act (TAA), meeting government procurement requirements.
Specifications:
NFPA 99 and ASTM D5034 Compliant
Size: 4X
Color: White
Elastic Ankles and Wrists
Serged Seams
Front Zipper Closure
Clothing Type: Coveralls
Brand Name: KLEENGUARD* A45
Applications:
Surface preparation
Paint application
Isocyanate and chromate protection
Upgrade your protective gear with Kimberly-Clark Professional* KLEENGUARD* A45 4X Hooded Coveralls – the ultimate choice for safety and comfort."