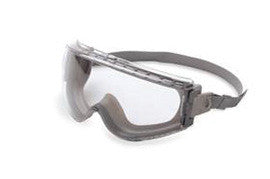 Introducing the Uvex Stealth Goggle – where unparalleled comfort, protection, and modern styling converge. This groundbreaking goggle seamlessly blends futuristic design, advanced technology, premium materials, and high-performance coatings to establish a new pinnacle of worker comfort and approval. A true trendsetter, the Uvex Stealth Goggle redefines the perception of wearing goggles on the job.
Key Features:
Innovative Low Profile Design and Indirect Venting System: Ensures protection against chemical splashes and impacts.
Impact Resistance: Both frame and lens provide over 99.9% protection from harmful UV rays.
Fog-Resistant Advancements: Uvextreme anti-fog coating combined with an indirect ventilation system prevents fogging.
Dura-streme Technology Option: Offers a combination of Uvextreme antifog protection on the interior and Ultra-dura™ hard coat on the exterior, resulting in superior chemical and scratch resistance, along with an extended lens lifespan.
Lens Tint Variety: Available in Clear, Amber, and Gray lens tints catering to a diverse range of applications.
Specifications:
Compliant with ANSI Z87.1-2003 (High Impact) and CSA Z94.3 standards.
Product Attributes:
Brand Name: Stealth
Frame Color: Gray
Goggles Type: Indirect Vent
Lens Color: Clear
Lens Type: Anti-Fog
The Uvex Stealth Goggle is a fusion of cutting-edge innovation and practicality, transforming the perception of on-the-job eyewear.