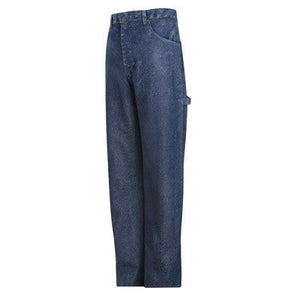 "Experience Ultimate Protection and Style with Bullwark® Flame-Resistant Stone Wash Dungaree - Size 38" X 32"
🔥 Stay Safe: This flame-resistant dungaree offers top-notch protection with an arc rating ATPV of 20.7 cal/sq.cm.
👖 Premium Quality: Crafted from durable 14.75 oz prewashed cotton denim, these dungarees are built to last.
🎯 Stylish and Functional: Enjoy five pockets, including two deep scoop pockets, two reinforced hip pockets, a utility loop, hammer loop on the left leg, rule pocket on the right leg, and a convenient wrap-around cell phone pocket.
⚙️ Thoughtful Design: Featuring a one-piece waistband with a concealed button closure, these dungarees ensure comfort and security.
👍 Product Details:
Color: Blue
Closure: Concealed Button
Clothing Type: Jeans
Material Weight: 14.75 Ounce
Clothing Size: 38" X 32"
Material: Cotton, Denim, Excel FR®
Lining: Unlined
ATPV Rating: 20.7 cal/sq-cm
📢 Please note: This item may have a lead time of up to 2 weeks.
Elevate your safety and style game with Bullwark® Flame-Resistant Dungarees!"