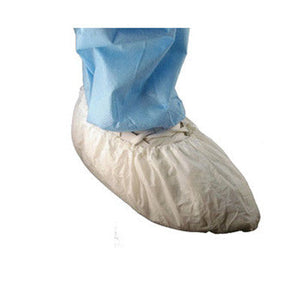 Elevate Cleanroom Safety with EPIC White Disposable Shoe Covers
Experience uncompromised protection in critical and low-particulate clean environments with our lint-free disposable cleanroom shoe covers. Crafted with meticulous attention to detail, these shoe covers feature heat-sealed seams, ensuring an impervious barrier against liquids while maintaining a lint-free environment. The lightweight design and seamless bottom make them an ideal choice for both specialized clean settings and general industrial applications.
Key Features:
Heat Sealed Seams: Maintain the highest level of cleanliness with our heat-sealed seams, preventing particle shedding and contamination.
Liquid Impervious: Our shoe covers are crafted to resist liquids, making them suitable for areas where liquid splash is a concern.
Skid Resistance: The proprietary polyethylene blend used in the fabric is embossed for enhanced skid resistance, promoting safety in every step.
Certified Protection: These shoe covers are designed for exposure to bloodborne pathogens and some hazardous liquids, meeting stringent safety standards.
Welded Seams: Welded seams ensure durability and reinforce the shoe covers' overall integrity.
Physical Properties:
Material: Proprietary Polyethylene Blend
Thickness: 5 mil
Size: Universal (16" length x 6" height)
Color: White
Test Results:
ISO Cleanroom Class: 5 (IEST-RP-CC003.3)
Coefficient of Friction: 0.57us (ASTM D2047)
Flammability Class: 1 (CPSC 1610)
Packaging: Neatly cleanroom packed for ultimate convenience, our shoe covers are available in packs of 100 pieces per sealed inner polybag, with 3 polybags per sealed master bag, totaling 300 pieces per case.
Trust EPIC White Cleanroom Shoe Covers for unmatched cleanliness, reliability, and protection in critical environments. Each pair is individually inspected to ensure impeccable sizing, welding, and workmanship, providing you with peace of mind in every step. Elevate your cleanroom experience with EPIC.