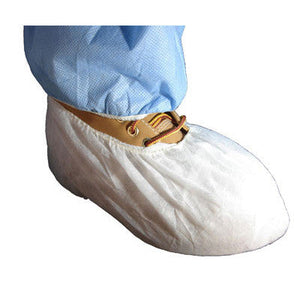 Elevate Protection with Disposable Elastic-Fit Shoe Covers
Experience superior comfort and security with our Disposable Shoe Covers, thoughtfully designed for an adjustable snug fit. Trimmed with latex-free elastic, these shoe covers ensure a customized fit that stays in place. The machine-welded seams not only enhance durability but also reduce particulate emission, maintaining a cleaner environment.
Key Features:
Adjustable Elastic Fit: The latex-free elastic trim provides a secure and adjustable fit, ensuring optimal comfort.
Encapsulated Elastic Seams: Machine-welded seams feature encapsulated elastic for durability and reduced particulation, maintaining a higher level of cleanliness.
Lightweight and Breathable: These shoe covers offer lightweight breathability, making them suitable for extended wear.
Versatile Sizing: Designed with a universal/shrink-to-fit concept, accommodating sizes from 6 to 16 inches.
Low-Linting Fabric: Crafted from 100% virgin spunbonded polypropylene fabric, these shoe covers are designed to minimize linting and maintain cleanliness.
Inspected for Quality: Each cover is individually inspected to ensure proper sizing, welding, and workmanship.
Physical Properties:
Material: 100% Virgin Spunbonded Polypropylene
Seam: Machine-Welded, Turned Inside Cover
Color: White
Test Results:
ISO Cleanroom Class: 7 (IEST-RP-CC003.3)
Flammability Class: 1 (CPSC 1610)
Packaging: These shoe covers are cleanroom packed, providing optimal hygiene. Each sealed inner polybag contains 100 pieces, with 3 polybags per sealed master bag, totaling 300 pieces per case.
Case SKU: TI-514883-L-CS
Elevate protection, comfort, and cleanliness with our Disposable Elastic-Fit Shoe Covers. Whether you're in a cleanroom environment, medical setting, or industrial application, these shoe covers provide the performance you can rely on. Experience the difference with our meticulously crafted footwear solution.