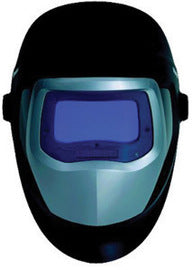 Advanced Features: The 3M™ Speedglas™ Silver Welding Helmet boasts a 2.8" X 4.2" Variable Shades 5, 8 - 13 Auto Darkening Lens, ensuring optimal protection during welding.
Ultimate Comfort: Equipped with new, ultra-comfortable headgear, this helmet offers a snug and convenient fit.
Versatile Usage: With sensitivity adjustment for Stick, MIG, and TIG welding processes, as well as grinding and torch modes, this helmet adapts to your every need.
Enhanced Vision: The inclusion of side windows provides over 100% increase in peripheral vision, optimizing your overall safety and awareness.
Certified Safety: Meets ANSI Z87.1-2010 standards, guaranteeing top-notch protection for your welding tasks.
Applications: Ideal for welding and grinding tasks, this helmet is a versatile and essential addition to your gear collection.