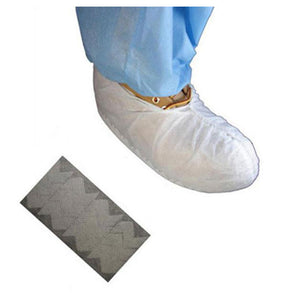 Polypropylene Cover With Skid-Resistant Bottom: Superior Protection and Stability

Upgrade your protective gear with our Polypropylene Cover featuring a Skid-Resistant Bottom. Designed for optimal safety and comfort, these disposable shoe covers offer a non-marking skid-resistant surface while providing an adjustable fit with latex-free elastic.

Key Features:

Skid-Resistant Bottom: The shoe cover boasts a non-marking skid-resistant bottom, ensuring stability on various surfaces.
Adjustable Fit: Trimmed in latex-free elastic, these covers provide an adjustable snug fit for maximum comfort.
Enhanced Durability: Machine-welded seams with encapsulated elastic minimize particulation and boost overall durability.
Breathable and Lightweight: Experience a balance between lightweight comfort and durable protection.
Latex-Based Bottom Coating: The bottom surface is coated with a latex-based material for additional skid resistance.
Physical Properties:

Material: 100% Virgin Spunbonded Polypropylene
Seam: Machine-Welded, Turned Inside Cover
Latex-Based Bottom Coating: Provides the skid-resistant feature
Test Results:

ISO Cleanroom Class: 7 (IEST-RP-CC003.3)
Coefficient of Friction: 1.08us (ASTM D1894)
Flammability Class: 1 (CPSC 1610)
Color:

White fabric with a white skid-resistant bottom pattern
Size:

Universal sized with a unique shrink-to-fit design, accommodating shoes from 6" to 17" long.
Packaging:
These shoe covers are cleanroom packed, maintaining exceptional hygiene. Each sealed inner polybag contains 100 pieces, with 3 polybags per sealed master bag, totaling 300 pieces per case.

Elevate your footwear protection with our Skid-Resistant Bottom Polypropylene Cover. Whether in a cleanroom, medical facility, or industrial setting, you can rely on the durability, comfort, and safety these covers provide. Experience the future of footwear protection with our meticulously designed solution.