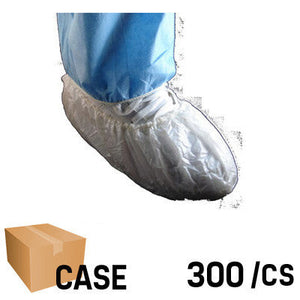 Full Coverage Disposable Cleanroom Shoe Covers by EPIC
Upgrade your footwear protection with EPIC's Full Coverage Disposable Cleanroom Shoe Covers. These lint-free shoe covers are designed with meticulous attention to detail, featuring heat-sealed seams and a taller height of 7.5 inches for complete shoe coverage.
Key Features:
Full Shoe Coverage: With a height of 7.5 inches, these shoe covers ensure full coverage of shoes for enhanced cleanliness.
Impervious to Liquids: Crafted from lightweight and liquid-resistant materials, providing reliable protection against liquids and splashes.
Enhanced Skid Resistance: The embossed proprietary polyethylene blend offers additional skid resistance for safer movement.
Versatile Application: Suitable for critical and low particulate clean environments, as well as general industrial applications.
Safety Assurance: The fabric is engineered to withstand exposure to bloodborne pathogens, hazardous liquids, and liquid splashes.
Physical Properties:
Material: Proprietary Polyethylene Blend
Thickness: 5 mil
Seam: Welded for durability
Color: White
Test Results:
ISO Cleanroom Class: 5 (IEST-RP-CC003.3)
Coefficient of Friction: 0.57us (ASTM D2047)
Flammability Class: 1 (CPSC 1610)
Size:
Universal sizing with dimensions of 16" length x 7.5" height
Packaging: Neatly cleanroom packed for optimal hygiene, each case includes 100 pieces per sealed inner polybag, with 3 polybags per sealed master bag, totaling 300 pieces per case.
Upgrade your cleanroom footwear protection with EPIC's Full Coverage Disposable Shoe Covers. Whether in medical settings, laboratories, or general industrial use, these shoe covers provide uncompromised protection, comfort, and safety. Trust in our meticulously crafted footwear solution for ultimate peace of mind.