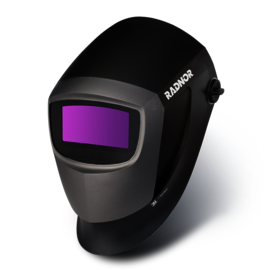 Experience the Next Level of Welding Precision with the RADNOR™ by 3M™ Speedglas™ RS-900 Welding Helmet
Introducing the RADNOR™ RS-900 Welding Helmet with Color Auto Darkening Filter, Shades 8 - 12, a powerful tool designed to elevate your welding experience. This helmet is your trusted companion for stick, MIG, and TIG welding processes, offering unmatched performance and safety features.
Natural Color Technology for Enhanced Control: The RS-900 employs innovative Natural Color Technology optics, providing you with superior control over the weld puddle. Enjoy a view that appears lighter, brighter, and incredibly realistic in both light and dark states.
Comfort and Durability: Crafted for comfort and robustness, the headband comes with a smooth ratchet mechanism for precise tightening. It's also hard hat compatible, making it ideal for welders working in environments with overhead hazards. Plus, it boasts a built-in holder for magnifying lenses, including 1.5X, 2.0X, 2.5X, and 3.0X, ensuring your vision remains clear and sharp.
Unmatched Visibility: The RS-900 features a larger lens for optimal viewing, allowing you to work with precision. Built-in exhaust vents in the helmet reduce lens fogging, ensuring uninterrupted visibility during critical welding tasks.
Slim and Lightweight Design: Its slim profile and lightweight construction mean you'll experience less constriction in tight spaces, enhancing your agility and comfort while working.
Exceptional Sensor Technology: Equipped with 2 sensors, 4 sensitivity adjustments, and 3 delay options, this welding helmet adapts to your specific needs, providing reliable protection and peace of mind.
Long Battery Life: With a battery life of approximately 2000 hours, the RS-900 ensures you won't be interrupted by power issues during your welding projects.
Compliance with ANSI Standards: The RADNOR™ RS-900 is compliant with ANSI Z87.1-2020 standards, guaranteeing top-tier safety and performance.
Discover the difference a quality welding helmet can make. Elevate your welding precision, safety, and comfort with the RADNOR™ by 3M™ Speedglas™ RS-900 Welding Helmet. Replacement parts and accessories are also readily available, ensuring your helmet remains a long-lasting and valuable tool in your welding arsenal.