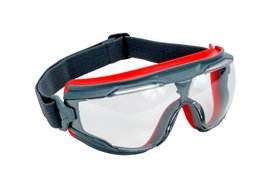 Introducing the 3M™ Solus™ 500 Indirect Vent Splash Goggles with Gray Frame and Clear Anti-Fog Lens.
Key Features:
The Clear Scotchgard™ Anti-fog Lens by 3M™ Goggle Gear resists fogging longer than standard coatings, enhancing visibility in wet and steamy conditions.
Workers benefit from extended, clear vision, as the active ingredient in the coating bonds to the lens. The coating remains effective for at least 25 washes with water, ensuring prolonged usage.
The coating maintains its anti-fog performance even after disinfection with diluted bleach soaking or alcohol wipes.
These eyewear meet the requirements of ANSI Z87.1 and CSA Z94.3, ensuring top-notch safety standards.
Specifications:
Compliant with ANSI Z87.1 and CAN/CSA-Z94.3 Standards
Applications:
Cleaning
Facility Maintenance
Grinding
Remediation
Chipping
Chiseling
Sawing